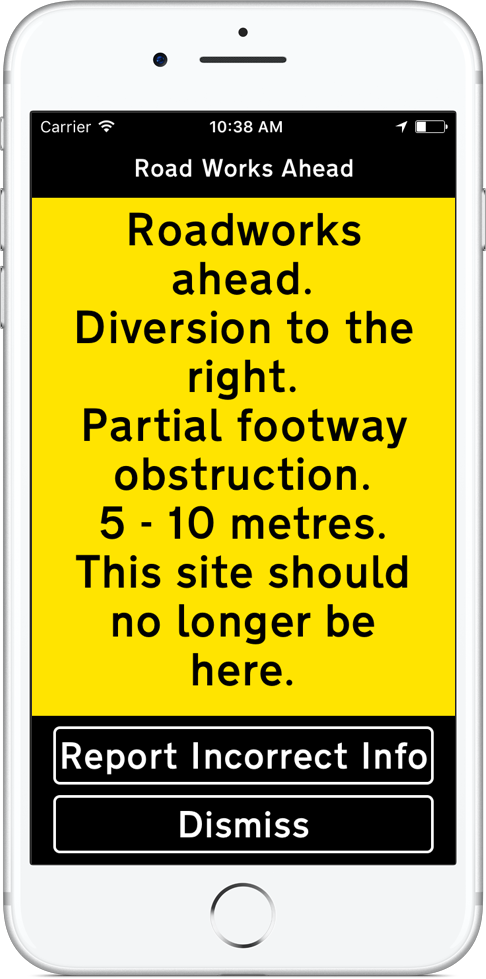 Making roadworks easier to navigate
The Sight Line app provides an audio and large print text description of any nearby roadworks sites that are using the Sight Line system. The description contains the site configuration and length along with how you should negotiate it and how long it will be in place.
Launch the app when you set off and it will run in the background for an hour scanning for nearby sites. When you come within a few metres of a site that is using the Sight Line system the app will issue a notification of roadworks ahead. Selecting the notification will trigger the full site description.
If the app is not running and you encounter a site and would like to find out about it you and open the app and the the description will play within a few seconds.
The Sight Line system is currently being used in the following areas by the these organisations:
Wolverhampton area, National Grid and Balfour Beatty
If you undertake street works would like to use the system on your sites it should be deployed along with a series of physical features the specifications for which are available, along with an Android app for writing the descriptions to the system at rossatkin.com.
If you provide a navigation app for disabled people and would like to integrate the roadworks descriptions from the system, or you would like to develop your own Sight Line client, the API documentation is available on in docs.
Available for free on iOS and Android: